A True Country Inn Bed and Breakfast with a touch of gentle Aloha in Kailua Kona, Hawaii.
Enjoy peaceful comfort, central Kailua Kona location and a good breakfast at a reasonable cost.
Hale Maluhia Country Inn (house of peace) Kona is a traditional bed and breakfast inn complex of several buildings with five lovely bedroom suites and all with private baths. Plus two rather special vacation cottages: A very private virtual tree house: Banyan Cottage of 850 sq. ft. with Jacuzzi & Shower. And a Japanese Tea House with shoji windows and a Carrara marble wet bath and ofuro on a near acre of tropical lush vegetation with big old trees in the beautiful Kona Coffee Country.
About Our Kona Bed & Breakfast Inn
Hale Maluhia Country Inn amenities includes a full Breakfast Lover's Buffet and DIY Omelet Bar with hot waffles and bird watching, Free parking, free extensive DVD movie library, free guest computer and free Wi-Fi. The large Common area includes a Baby Grand Piano and other musical instruments available for guest use. The Inn also has an upcoming aquaponics garden and a few chickens for some really good organic eggs from time to time. Learn more about our Inn Amenities
Hale Maluhia Inn is not touchy or fussy, it is 1970 - 80's virtual Hawaiian Plantation House that feels a hundred years old with a gentle spirit of peace and aloha at a very reasonable price. Come enjoy and relax in peaceful Kailua Kona coffee country. If you like clean, simple down home organic comfortable living with sage advice when requested, you will love Hale Maluhia Country Inn (house of peace) Kona.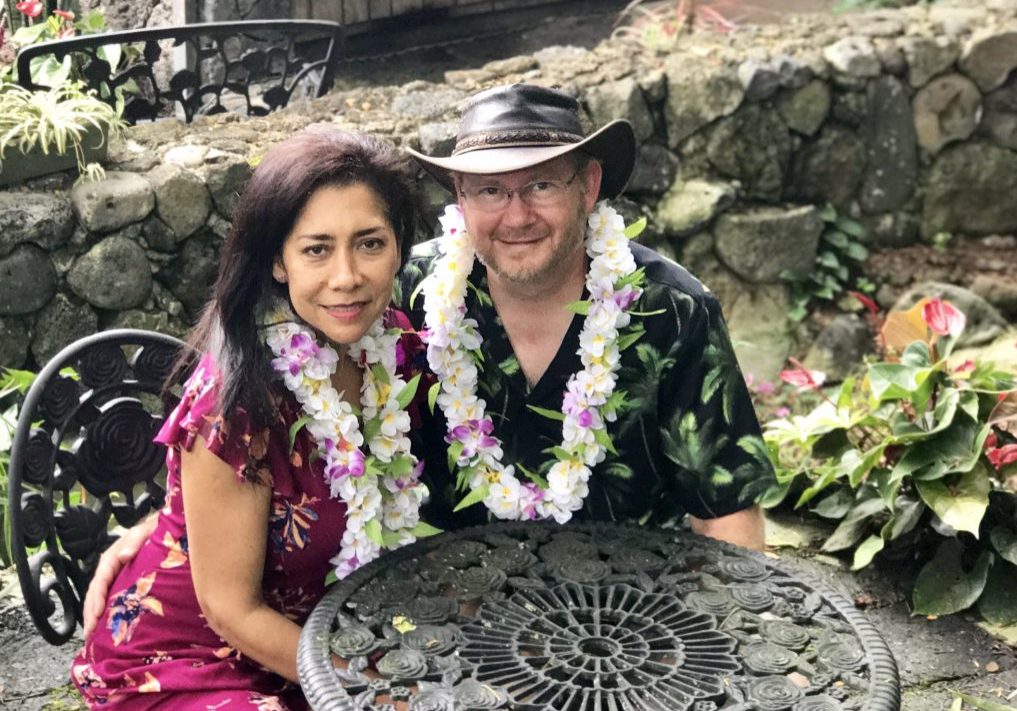 Dave & Miriam Cariveau - Owners
Dave and Miriam Cariveau purchased Hale Maluhia in 2017, realizing their dream of living in Hawaii and managing their own B&B. Dave was an accountant on the mainland and Miriam worked at the English Rose Tea Room in California before they moved their family to Hawaii. Miriam draws on her extensive experience in hospitality and applies those same principles as an owner when it comes to ensuring the comfort and enjoyment of their guests. Dave and Miram live at the Inn with their 4 boys, while 3 adult daughters are living in California.
This is my second time staying at this lovely inn. It feels comfortable and welcoming. It is seasoned and has been here for a number of years. A bird feeder draws a host of beautiful birds that one can watch in the morning while eating breakfast. The Lanai is a wonderful place to visit with both staff and other guests. Breakfast is generous and you can choose what you want. Everyone is quick to ask if there is anything you need or what might make you even more comfortable. I enjoy staying here and look forward to my next visit whenever that may be. Located close to Holualoa it is surrounded by trees and other houses tucked into lush yards. It is about 10 minutes to Kailua Kona. I was pleasantly surprised how much business I could get done using the Inn as a base. The wi fi connection was great. I could locate the places I needed to be and quickly get all over town. Our first visit here we stayed for two weeks so it feels a bit like coming home to a home away from home. I am pleased to recommend this Inn to anyone who is coming here for business or pleasure with your entire family or by yourself. A great resource for travelers. -- Judy Reviewed : July 11, 2017 TripAdvisor
A house of peace and friendship
We just spent our 50th wedding anniversary at the Hale Maluhia on Kona. Breakfast begins with residents drinking coffee, getting acquainted and cooking together in the kitchen. It's a country inn in the hills above kona. Roosters, wild turkeys, birds provide the sound effects. Owner on the premises, great staff. We did not get mosquito bites,. Clean rooms, comfortable beds, great showers. Kitty C. Denver, Colorado Reviewed : January 2016, TripAdvisor

Charming vacation destination
My son and I had a lovely two days together at the Four Seasons, but I did regret having to give up my last two days at your country inn. My time spent at Hale Maluhia was a true delight. Choosing vacation destinations over the internet is quite a gamble, but I was definitely not disappointed. The staff was always pleasant and helpful, the surroundings so peaceful and beautiful, my room was very comfortable and clean, and the breakfast was "over the top". I would love to return. Sally M. Seattle, Washington Reviewed: January 2016, TripAdvisor